Big Eyes, the revolutionary community-driven cryptocurrency, is pleased to announce the successful completion of its presale, raising an impressive $27,462,080.25. The overwhelming response from investors showcases the growing popularity and potential of the Big Eyes project. Big Eyes is now set to launch on the 15th of June, marking a significant milestone in its journey towards reshaping the crypto landscape.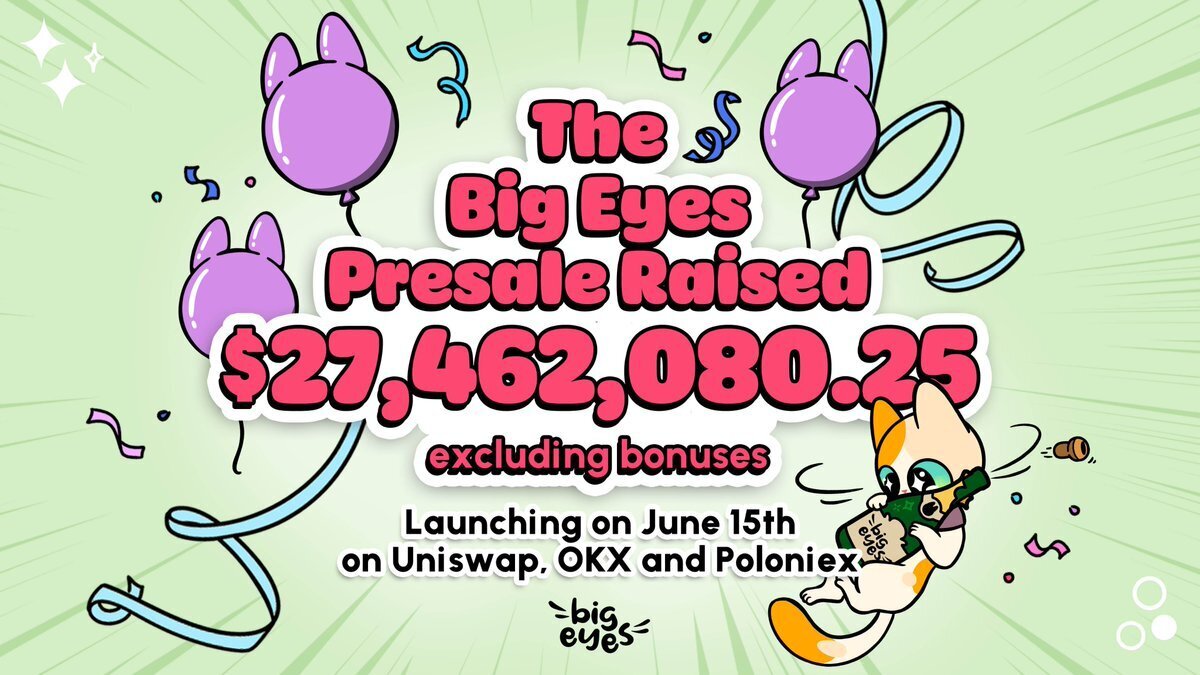 Big Eyes aims to create a blockchain ecosystem that empowers its community while making a positive impact on the environment. By utilizing NFTs, the project offers unique content and events, providing exciting opportunities for token holders to participate in the blockchain revolution. The project also embraces philanthropy, with a portion of the coins allocated to supporting environmental-focused non-governmental organizations (NGOs).
The adorable and captivating branding of Big Eyes, featuring a lovable cat mascot, has helped the project stand out in the crowded crypto market. Unlike other altcoins, Big Eyes distinguishes itself with its endearing feline protagonist, creating a unique identity that resonates with investors.
As an ERC-20 token, Big Eyes Coin ($BIG) provides numerous benefits to its holders. Token holders can utilize $BIG for various purposes, including the acquisition of exclusive NFT content and many more uses.
One of the most exciting developments for Big Eyes is its integration of a casino platform that utilizes the BIG token. This move not only adds utility to the token but also enhances its potential for wider adoption in the gaming industry. Furthermore, Big Eyes has announced plans to develop more than 20 play-to-earn (P2E) games, providing users with engaging opportunities to earn and interact within the ecosystem.
During its presale phase, Big Eyes Coin generated substantial excitement within the crypto community. Investors were attracted to the project's unique offerings, including the promise of a significant price increase upon its launch. The association of $BIG with the adorable cat mascot and the inclusion of a casino platform fueled enthusiasm among potential investors. With a projected 600% increase in value upon launch, Big Eyes Coin is set to reach newer heights in the coming days.
'We are thrilled to have successfully completed our presale and are excited to list on the OKX Platform and Poloniex,' said the spokesperson for Big Eyes. 'The overwhelming support we have received from the community has been incredible, and we are confident that Big Eyes will continue to capture the attention of investors and enthusiasts alike.'
The team behind Big Eyes has carefully designed the tokenomics to ensure the sustainability and growth of the project. The total token supply is set at 200,000,000,000, with the following allocation:
70% of tokens sold via a public presale

20% reserved for exchanges

5% allocated to the marketing wallet

5% visibly held for charitable initiatives
Notably, Big Eyes Coin features a unique tax structure that benefits token holders. There are no taxes applied to buying or selling tokens, fostering a seamless and efficient trading experience. However, a 10% tax is applied specifically to NFT transactions, with the following distribution:
4% distributed to the original seller

5% distributed to token holders

1% allocated to charity
This mechanism encourages the circulation of the BIG token within the community and provides incentives for participation and engagement.
The listing of Big Eyes on the OKX Platform is scheduled for the 15th of June, marking an important milestone for the project. This strategic partnership will open up new avenues for liquidity and trading opportunities, further solidifying Big Eyes' position in the cryptocurrency market.
With the completion of the presale and the impending listing on OKX, Big Eyes anticipates a significant increase in community members, trading volumes, and overall awareness. The project aims to create a thriving ecosystem that brings together the crypto community, gaming enthusiasts, and advocates for environmental preservation.
To learn more about Big Eyes and participate in the upcoming listing, please visit the project's official website at https://bigeyes.space/.
About Big Eyes
Big Eyes is a community-driven cryptocurrency project with a focus on shifting wealth into the decentralized finance (DeFi) ecosystem. With its captivating branding and philanthropic initiatives, Big Eyes aims to create a self-propagating blockchain ecosystem that utilizes NFTs to offer access to content and events within the crypto space. By integrating a casino platform and developing multiple play-to-earn (P2E) games, Big Eyes provides users with unique opportunities for engagement and earning potential.
Website | Twitter | Telegram | Discord | Medium | Instagram |WhitepaperBig Eyes
support@bigeyes.space
Disclaimer:
This announcement is not directed at any investors or potential investors, and does not constitute an offer to sell - or a solicitation of an offer to buy - any securities, and may not be used or relied upon in evaluating the merits of any investment. Any projections, estimates, forecasts, targets, prospects and/or opinions expressed in this release are subject to change without notice. The contents in here should not be construed as or relied upon in any manner as investment, legal, tax, or other advice.
Source published by Submit Press Release >> Big Eyes Raises $27.5 Million in Presale and Prepares for Launch